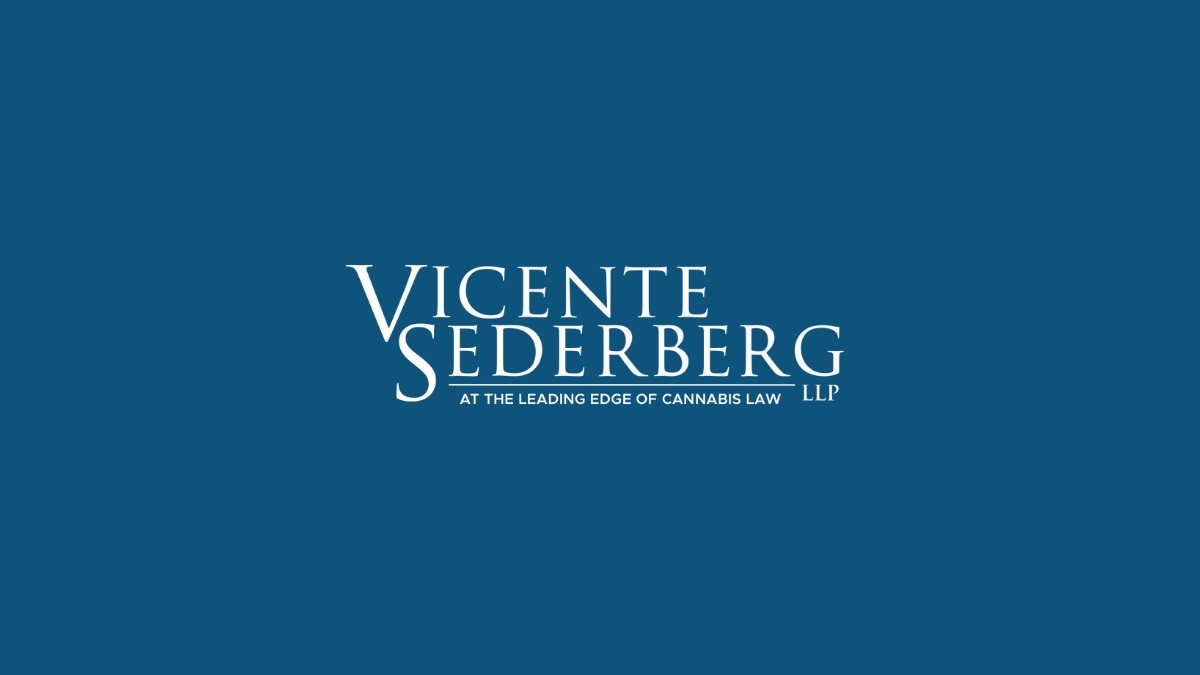 NEW YORK – National cannabis law firm Vicente Sederberg LLP will host a webinar Thursday at 2 p.m. ET exploring the latest developments and issues surrounding cannabis legalization in New Jersey, New York and Connecticut. Register now for the free event at http://bit.ly/VS-webinar-2-4-21.
The online event will feature a panel of VS attorneys, including leaders of the firm's New York office, who are working on cannabis policy and regulatory matters with policymakers and stakeholders across the tri-state region. It will also feature special guest Michael Huttner, managing director of Young America Capital.
The panel will explore a variety of questions on the minds of regulators, entrepreneurs and existing cannabis businesses, including:
Will New Jersey Gov. Phil Murphy sign the current adult-use bill on his desk, or is it back to the drawing board for the Legislature?
Will this be New York Gov. Andrew Cuomo's big year for cannabis legalization, and if so, will the CRTA or MRTA make it to law?
Will Connecticut surprise the region by enacting adult-use legalization before New York?
How big are these markets and what will they look like?
What are the acquisition opportunities, and how can businesses raise capital in this ambiguous environment?
About the Event
WHAT: "Are We There Yet?: Exploring Cannabis Legalization in New Jersey, New York and Connecticut," an online panel hosted by Vicente Sederberg LLP
WHEN: Thursday, February 4, 2021, 2 p.m. ET
WHERE: This free event will be held online; register now at https://event.webinarjam.com/register/50/5431nunn to receive a link to the event
WHO: Moderated by Andrew Livingston, Director of Economics and Research at Vicente Sederberg LLP
Featured panelists:
Michelle Bodian, Senior Associate at Vicente Sederberg LLP
Jennifer Cabrera, Counsel at Vicente Sederberg LLP
Elliot Choi, Counsel at Vicente Sederberg LLP
Michael Huttner, Managing Director at Young America Capital
---
About Vicente Sederberg LLP
Vicente Sederberg LLP is a top-ranked national cannabis law firm with offices in Denver, Boston, Los Angeles, New York, Jacksonville, and Austin. It has been at the leading edge of cannabis policy for more than a decade, helping public and private sector clients evaluate, shape, implement, and navigate marijuana and hemp laws and regulations across the U.S. and around the world. VS has helped clients obtain cannabis business licenses in 23 states and dozens of localities across the U.S. and Canada, while also championing cannabis social equity programs and providing free or reduced-cost legal services to qualified applicants who need help accessing and/or navigating them. For more information, visit https://vicentesederberg.com/.