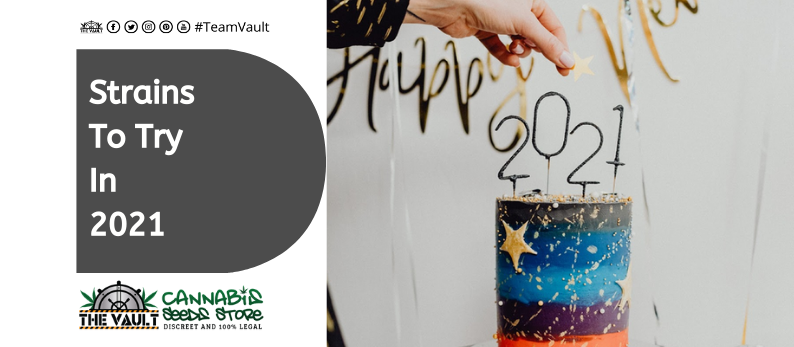 A new year means a whole lot of different things to different people. It can mean a new you, a new resolution, a new work out regime, or a new reason to have a complete breakdown in the case of most UK citizens. One thing that New Year almost always means is trying something new. So why not point some of that renewed vim and vigour towards expanding one's strain library. This list is a combination of strains old and new, some we may have forgotten about and others we've just never met before. This year may be off to a rocky start already, but it's important to do what we can to keep on moving forwards and away from many horrors of 2020.
Agent Orange
Orange Velvet and Jack the Ripper came together to create this tasty and ultra-relaxing strain. She has kept all the powerful orange flavour of that side of the family and inherited some serious resin production. Agent Orange is half Sativa half Indica strain with a delightfully balanced and chill effect. She is perfect for anyone who wants something relaxed and even sleepy without feeling like they've been whacked on the head with a cartoon mallet. If she is grown outdoors she will grow up to 3 meters in height, so will need plenty of headroom or a tall fence. She will also produce plenty of resin giving her buds the appearance of being lightly frosted. When grown indoors she can be quite easy to control height wise but will likely spread out sideways instead. She has a flowering time of just 55 – 65 days and comes in the form of regular seeds.
Gelato
I know Gelato has definitely come up before but for those who haven't yet had the pleasure, I strongly recommend trying her this year. She was created by combining Sunset Sherbet and Thin Mint Girl Scout Cookies. She is just as delicious as she sounds with a few added bonuses. For a start, her THC content sits at around 27% meaning she is quite capable of knocking blocks off. She is Sativa dominant so her high is relaxing but not soporific. She is also very uplifting and extremely creative, perfect for anyone who's New Year resolution was to write a novel or take up painting. I can't promise the results will be any good, but at least the motivation will be there. Her flavour is a mixture of citrus, berries and menthol with just a hint of sweetness. She has a flowering time of just 56 – 70 days and can be grown indoors or outdoors.
OG Kush
Time for a classic, the ever wonderful OG Kush. This version is a little different to what most Kush fans might be used to. She is actually a combination of OG Kush and Northern Lights. This little twist to a vintage favourite creates something truly special and a must-try for this year. Both strains share common ancestors so they blend beautifully together. When these two giants are brought together the result is a high yielding, high potency strain with a fantastic flavour profile. The buds are dense, tight and absolutely dripping with resin. The effect is powerful, long-lasting, cerebral and relaxing. This strain also has a decent CBD content of 1 – 5% making it a great night time strain for those who suffer from sleep issues or anxiety. OG Kush has a flowering time of 70 – 80 days and can be grown indoors or outdoors.
BC Pinewarp
This lovely little hybrid is a combination of Texada Timewarp and Purple Pineberry. The result is a balanced Indica/Sativa strain that comes highly recommended for medicinal use. The THC level sits at around 21% and the effects are relaxing, soothing and great for dulling pain. This strain is often prescribed to those suffering from headaches, stress, pain, inflammation and depression. One of the most alluring aspects of this strain is her independence. When cultivating these plants the grower basically just needs to sit back and watch her work. She needs very little care or attention but will still produce excellent yields of potent buds. Outdoors she can basically be planted and left to her own devices until harvest time. She is the perfect new strain for anyone who just doesn't have time to baby their plants.
Aurora Indica
Aurora Indica is a hybrid of two classic strains, Afghan and Northern Lights. She has many amazing qualities but is best known for her medicinal properties. She is a heavy Indica but produces a happy and soothing relaxation that permeates every inch of the body. She is usually recommended to those suffering from pain, stress or insomnia. She has an impressive CBD content of 5% or higher. Her scent is equally soothing, a combination of incense, herbs and spice that swirls around the brain and just releases residual tension. This is the strain for anyone who has had a difficult time this past year and just needs to lie back and chill out for a while.
Widow Bomb
Widow Bomb is a great new strain for White Widow lovers who would like to try something a little different. She is a combination of two parts White Widow and one part Bomb #1. This strain has a high THC level of 21 – 25% and is capable of producing amazing yields. Usually, the harvest will produce 550g/m2. The effect is still the classic White Widow full-body buzz with a mix of energy and relaxation that is perfect for just sitting back and enjoying life. She is also completely coated in the White Widow resin that makes the buds sparkle like they have been growing in a snow storm. Essentially this is the White Widow we all known and love but with a little extra punch. Widow Bomb has a flowering time of 8 – 10 weeks and can be grown indoors or outdoors.
These are just a few of the amazing strains that are well worth trying in 2021.
Newsletter Sign Up
Make sure you never miss another Vault promo – sign up for our newsletter at http://goo.gl/Bt2Ba2
Remember: It is illegal to germinate cannabis seeds in many countries and some remote, less enlightened planets outside the core systems. It is our duty to inform you of this fact and to urge you to obey all of your local laws to the letter. The Vault only ever sells or sends out seeds for souvenir, collection or novelty purposes.