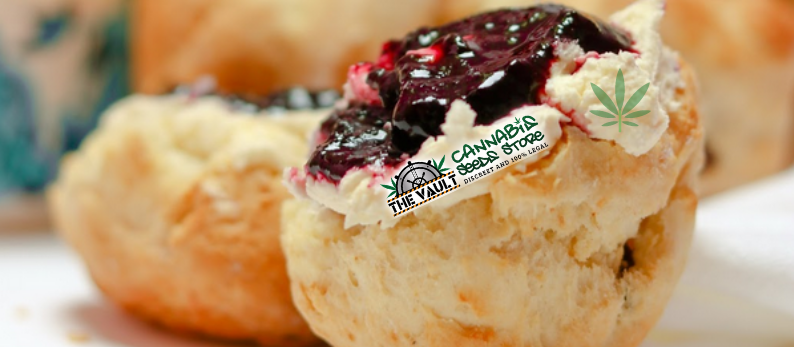 While the world is burning around us it is vitally important that we treat ourselves well. I felt that something I would like to do is put on my nicest clothes and enjoy a sophisticated high tea, but with extra high. I am committed to finding the most interesting and enjoyable ways to consume edibles and I thought that scones, jam, cream and an ornate charity shop teapot full of happiness sounded a bit lovely. I will be providing cannabis recipes for every aspect of a high tea, but I do not recommend making all of them at once. Maybe choose one or two special pieces for the spread or things may develop faster than is enjoyable, or go ahead and make them all, we all know our limits.
Scones
First of all let's start with the cornerstone of high tea, scones. Scones can be made in several ways with pretty much anything we like in them, but I'm going to go for traditional plain for the purposes of this exercise.
Ingredients:
225g Self Raising Flour
55g Cannabutter
25g Caster Sugar
150 ml Milk
1 Beaten Egg
Pinch of Salt
Directions:
Preheat the oven to 220C, or 200C if we are using a fan oven, and grease a baking tray with regular butter.
Cut the cannabutter into small chunks and mix with the flour and salt using a process called crumbing. This essentially means we want to lightly rub the flour and butter together until we have a bowl of fine crumb-like lumps. This will help the scones stay nice and light through cooking. Add the sugar and then fold in the milk until we have a soft ball of dough.
Flour a surface and roll out the dough until it's around 2cm thick, any thinner or thicker and we might get tiny burnt or enormous undercooked scones. To cut out the scones we can use a round cutter, but failing that a cup or glass well-floured around the edges will do the trick.
Place the tasty little disks onto a baking tray and brush the top with beaten egg, failing that milk is also a decent way to glaze scones.
Whack them in the preheated oven for 10 – 15 minutes, keep an eye on them as they rise. Once they have risen a decent amount and started to turn golden brown they can come out of the oven and sit to cool.
Clotted Cream
Cannabis cream isn't too difficult to make, and then we are going to turn it into clotted cream.
In order to make the cannabis cream we will need the following:
4 – 8 g Marijuana
250 ml Cream
Tsp Vanilla Extract
Tbsp Confection Sugar
Directions:
Put a bowl over boiling water in a pot to create a bain marie, pour in the cream and the marijuana.
Simmer together for around an hour.
Leave to cool off the heat before straining to remove the bits and pieces from the cream.
Put in the fridge until cold.
Clotting Directions:
Put the cream back into a baine marie, a bowl over boiling water in a saucepan.
Simmer for 2 – 3 hours until the cream starts to form a layer on the top.
Then remove it again and cool it until it is cold and has formed a layer on the top of the cream. To do this leave it in the fridge for several hours.
This top layer then needs to be removed and placed into a separate container and there we have some yummy cannabis clotted cream.
Cannabis Infused Jam
This one is definitely for the very culinary minded that want to make everything from scratch, or make everything cannabis infused.
Ingredients
125g Cannabutter
800g Whichever Fruit
800g Brown Sugar
Lemon Juice or Water
Directions
Throw the fruit into a heavy based saucepan with 100ml of water and bring it to the boil.
Once the fruit is bubbling away, lower to a simmer and leave for about 10 – 30 minutes, hardier fruits will need a bit longer.
Add in the brown sugar and bring it back to boil, keep stirring and if there is a food thermometer handy ensure it reaches 104C.
Once we have taken it out and removed any nasty bits that may have snuck in the fruit we add in the cannabutter. Keep on mixing until it's fully incorporated and there are absolutely now lumps.
As it cools down it will continue to thicken and then pour it into a container.
Cannabis Tea
Finally we have our main event, our literal high tea. Cannabis tea is simple to make and can be a lovely accompaniment to regular scones, jam and cream.
Ingredients
½ g Marijuana Buds
½ tsp Butter
Reusable Tea Bag
Directions
Grind the buds, ideally with a mortar and pestle. Try not to over grind as we don't want a powder.
Mix the ground buds with warmed butter until all of the buds are covered in the fat. However, we don't want them to be too soaked in butter as it may stop the THC from releasing.
Fill the reusable tea bad with the mixture, or we can use a normal teabag emptied of the tea.
Then boil around 300 – 400 ml of water in a pot and then bring to a simmer. Lower the bag into the water and allow to steep for half an hour.
Then it will be ready to put into a tea pot, and sometimes a little honey or sugar doesn't go a miss.
Of course if we want it to be really strong we can bake the cannabis before hand like we would for butter or oil.
There we have it, a full high tea in name and in action. A lovely idea for one of the many sunny winter days that we are all availing ourselves of currently. To learn how to add cannabis to butter, and a number of other yummy recipes, please visit our previous posts on cooking with cannabis.
Remember: It is illegal to germinate cannabis seeds in many countries including the UK. It is our duty to inform you of this fact and to urge you to obey all of your local laws to the letter. The Vault only ever sells or sends out seeds for souvenir, collection or novelty purposes.
Make sure you never miss another Vault promo and sign up for our newsletter at http://goo.gl/Bt2Ba2