Behind the Bar is The Nevada Independent's newsletter devoted to comprehensive and accessible coverage of the 2021 Legislature.
In this edition: A positive COVID test comes right as the mass vaccination campaign inside the building begins. Plus, details on the "pot for pets" bill, ending a 90s-era ban on people with drug charges from accessing state welfare programs, and concerns over cuts to tobacco prevention funding. And, the return of fan-favorite feature "Carson City Restaurant Spotlight."
Check this link to manage your newsletter subscriptions. The newsletter is published on Mondays and Thursdays.
I want to hear from you! Questions, comments, observations, jokes, what you think we should be covering or paying attention to. Email me at [email protected].
---
I suppose it was only a matter of time before COVID-19 came (again) to the Legislature.
If you missed the news yesterday, a person inside the Legislative Building in Carson City tested positive for the virus earlier this week. Contact tracing is underway, and there wasn't any additional identifying information in the email sent to Legislative Counsel Bureau staff on Wednesday morning.
Even with lobbyists and members of the public still not allowed in the building, there's still somewhere in the neighborhood of 200 to 400 people between legislators, staff and the small press pool spending hours and hours inside the building. That's a lot of people to keep track of, especially with many lawmakers flying back to Las Vegas on weekends.
I would be surprised if legislative operations are significantly affected by the positive test — committees are already held virtually, so someone who needs to quarantine could still theoretically participate in meetings. There's also rapid COVID testing available in the legislative parking garage, with people in the building required to be tested as least once a week.
Lawmakers have also adopted rules allowing legislators to appear virtually during floor sessions, an option that relatively few have taken up so far this session (definitely noticed a trend of more people appearing virtually after a positive case was reported in the first 2020 special session).
The timing of the positive test also comes as mass vaccinations are finally happening, with first shots of the Moderna vaccine being administered this week. The timing isn't uniform — some older staffers were vaccinated earlier this year — and people who had COVID prior to the session and still have (presumably) some kind of antibody resistance.
All of these things are factors in the equation of when to open the building. Again, Assembly Speaker Jason Frierson was adamant last week that an opening wouldn't happen until the LCB staff were fully vaccinated and protected from the virus (the death of Assembly Sgt. at Arms Robin Bates from COVID still weighs heavily).
I understand, and am sympathetic to the difficult decisions that legislative leadership has to make in regards to opening the building. Senate Majority Leader Nicole Cannizzaro's line on Wednesday during the Senate floor session, that "there is nothing quite like a global pandemic to put everyone in an impossible situation," certainly appeared like an authentic expression that figuring out how to open safely is a really, really difficult task.
But this is why they're elected — to figure out and try to address those really difficult problems. It's hard, but someone needs to eventually make the call and give more clarity as to what to expect going forward.
— Riley Snyder
Maybe this time the pets will get their pot
Licensed veterinarians are not allowed to use or recommend CBD or hemp products to pet owners to treat conditions, but experts say people do anyway without vet guidance.
Nevada lawmakers may soon change that. The Assembly Commerce and Labor committee heard a purr-posed "pot for pets" bill on Monday.
AB101, presented by Assemblyman Steve Yeager (D-Las Vegas), would change Nevada law to allow veterinarians to administer hemp or CBD products, containing no more than 0.3 percent of the psychoactive compound THC, to an animal, or recommend a pet owner to use such a product.
"We're not going to have a bunch of pets walking around stoned," Yeager said. "It's more of the calming effect of CBD."
The bill would relieve vet and pet owner anxieties around the use and discussion of CBD as a treatment option, according to Jennifer Pedigo, executive director of the Nevada Board of Veterinary Medical Examiners. AB101 would prohibit the board from disciplining licensed veterinarians or facilities solely for administration or recommendation of the product.
"There is this desire on the part of vets to be able to look at this and to talk about it," Yeager said. "But they just want to make sure that they're not going to get disciplined for doing so."
In 2015, then-Sen. Tick Segerblom introduced SB372 that would have allowed the medical use of marijuana for animals, but the bill died without a hearing.
Assemblywoman Jill Dickman (R-Sparks) shared during the hearing her experience of asking the vet if CBD would help with her Yorkshire terrier's pain during the dog's last days, but she said the vet couldn't guide her.
"Not that I think it would have saved the dog, but I think her last days would have been far more comfortable if they had been able to guide me," Dickman said.
— Jannelle Calderon & Tabitha Mueller
Nixing a Clinton-era ban on welfare for people with drug convictions
One of the legacies of welfare reform in 1996 has been extremely small welfare rolls in Nevada, even while less-restrictive programs such as Medicaid enroll 40 times as many people and attest that the need for cash assistance is there.
But another vestige of the Clinton-era policy is a ban on welfare and food stamp benefits for people who have felony drug convictions. That comes from the "Gramm Amendment" — sponsored by Republican former Sen. Phil Gramm of Texas — that got two minutes of debate in the Senate before being adopted into the welfare reform bill President Bill Clinton signed into law.
While there are some ways for people with felony convictions in Nevada to get around the ban, such as proving they completed federally certified substance abuse training, critics say such programs are expensive and difficult to access. And what if the applicant loses the proof they completed such a program?
The Assembly Health and Human Services Committee on Wednesday heard AB138, which seeks to wipe out such restrictions. Critics including Assemblywoman Annie Black (R-Mesquite), who disclosed she has a person in her life who is dealing with an opioid addiction, said she worried about removing a requirement that might be a "carrot" to nudge people into treatment.
But public commenters exclusively spoke in support of the bill, condemning a criminal justice system that disproportionately convicts people of color. They said the "War on Drugs"-era policy is a cruel way to encourage treatment and punishes a subset of formerly incarcerated people as well as their families.
Commenter Nicole Williams perhaps summed up the bill support in its most basic essence.
"All humans, all Nevadans, with or without felony convictions, should have access to food," she said. "It's basic human decency."
— Michelle Rindels
Tobacco prevention funding zeroed out
A major concern for public health advocates for the upcoming biennium? Cuts to tobacco prevention funding.
Through vaping tax bill SB263 in 2019, the state appropriated $2.5 million in both the 2019 and 2020 fiscal years for tobacco prevention. Instead, the state spent less than $2.3 million on SB263 tobacco prevention in the two years combined, and in the proposed budget for the upcoming biennium, there are no funds allocated for tobacco prevention efforts.
During a legislative hearing on Tuesday for the proposed budget for the Division of Public and Behavioral Health, several public health advocates sounded the alarm about youth anti-vaping programs potentially going away.
"Elimination of education along with the loss of funding to local health authorities to implement prevention activities in communities throughout the state will mean more Nevada youth using and becoming addicted to nicotine products," Tom McCoy, policy committee chair for the Nevada Tobacco Prevention Coalition, wrote in a public comment.
Representatives from the health districts in Washoe and Clark counties called for restoring funding, pointing to the ongoing trends in youth vaping. Nearly half of Washoe County high school students and nearly a third of Washoe County middle school students reported having used electronic vapor products, according to Kevin Dick, district health officer for Washoe County.
— Sean Golonka
Carson City Restaurant Spotlight: Thai Thai
I'm not one to typically seek out a food court in a mall anchored by an urgent care and a salon called Get Nailed. But the Carson Mall has a few eateries of note, including one of the capital city's two Thai restaurants.
Thai Thai is a bit pricier than what you might expect from similar restaurants in Vegas, but I also got out the door paying less than what I would at The Basil, which is the destination of choice if you're into downtown people-watching and on the company tab.
My green curry and Pad Thai order was fast, piping hot and neatly presented, with a few unidentified, saucy bonus condiments thrown in perhaps for good measure and perhaps to achieve spice level 3. The curry could've been a bit more green, but like that Pad Thai, it hit the spot. And I'm probably doing this restaurant critic thing wrong by even bringing up the rice, but the rice was perfection.
In all, dinner for two (and leftovers for the next day) was about $32 including tip. Thai Thai is open until 9 p.m. most nights to accommodate committee hearings that run late, but not too late.
Make your takeout order at (775) 883-7905. Located at 1300 S Stewart Street in Carson City.
Have a restaurant suggestion for the Spotlight? Tell me at [email protected]. FYI: We're not accepting free food in order to preserve the integrity of the reviews.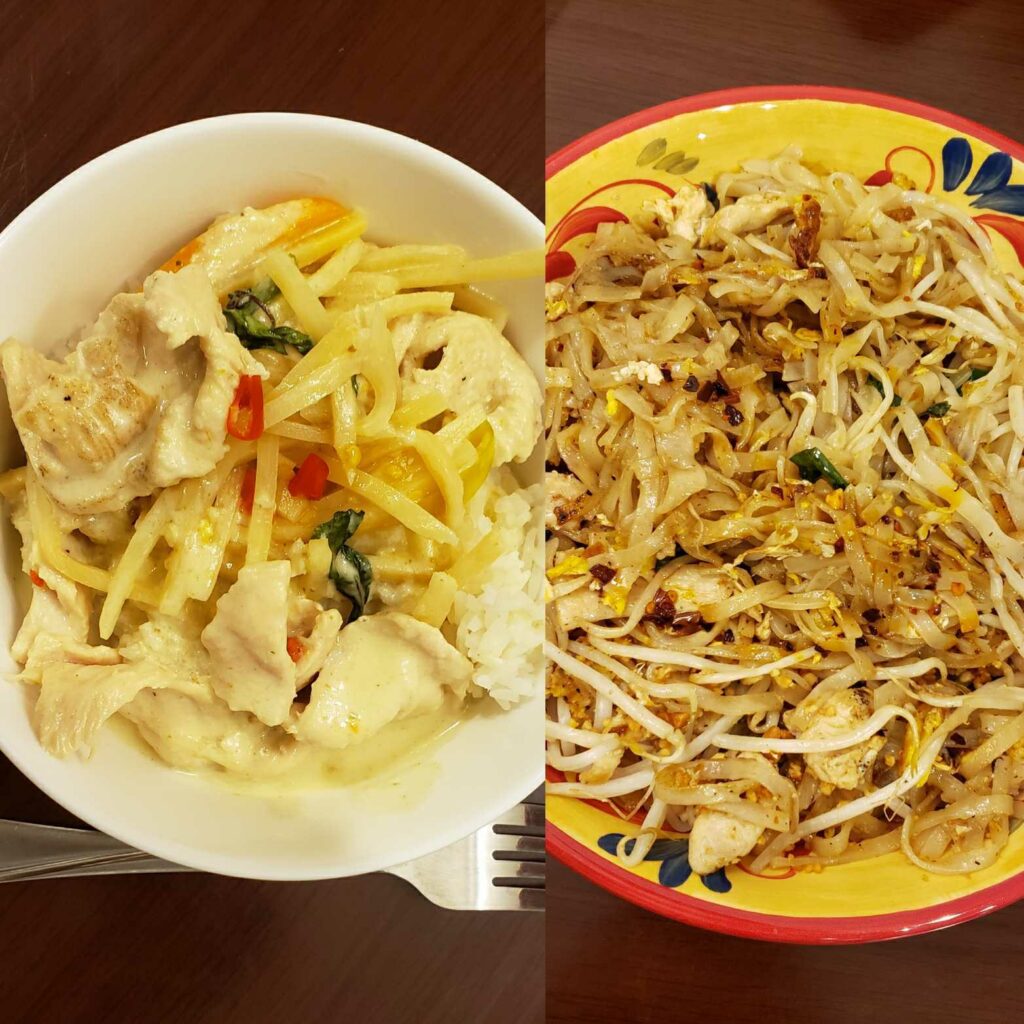 What we're reading
The quest to add the ERA to the U.S. Constitution is forever pending, but getting it into the Nevada Constitution will probably be an easier lift. Jannelle Calderon reports.
Insurers charging you more because Fido is a pit bull? Sean Golonka on banning breed-specific rates.
Nothing brings the left and right together like committee chairs limiting public comment to 10 minutes. Riley reports.
Andy Matthews once went undercover to try out for the Red Sox, but said he was never much in danger of making the team. That and more on the new Republican Assembly member, via Riley.
For the third time in as many sessions, proposals are floating in the Legislature to appoint, rather than elect, as least some school board members. Jackie Valley reports that the proposal might have a better chance in 2021.
A new coalition wants the Legislature to raise taxes for public education, and is employing the classic lobbying tactic of buying billboard space between the Reno airport and the capital, Michelle reports.
Assemblywoman Selena Torres (D-Las Vegas) has introduced a bill that would ban summary evictions (Las Vegas Review-Journal)
Assemblywoman Jill Tolles (R-Reno) is introducing a bill that would promote information literacy in public schools (KUNR)
Public Employee Retirement System premiums for state workers are set to increase over the budget cycle (Nevada Appeal)
UPCOMING DEADLINES
Days to take action on Initiative Petitions before they go to the 2022 ballot: 15 (March 12, 2021)
Days Until Legislator Bill Introduction Deadline: 18 (March 15, 2021)
Days Until Sine Die: 95 (May 31, 2021)