Baked Apple Roses With Cannabis
With Valentine's Day coming up, why not create something beautiful for yourself or your loved one? Making Baked Apple Roses With Cannabis is easy and super yummy!
Your Valentine will think you slaved over a hot stove for hours when these bad boys are presented to them.
And really, what could be better than a gorgeous-looking rosebud loaded with cannabutter? Nothing!
You'll learn how to use puff pastry, red apple slices and some sweetness all wrapped up into one, to create these cute, romantic edible treats.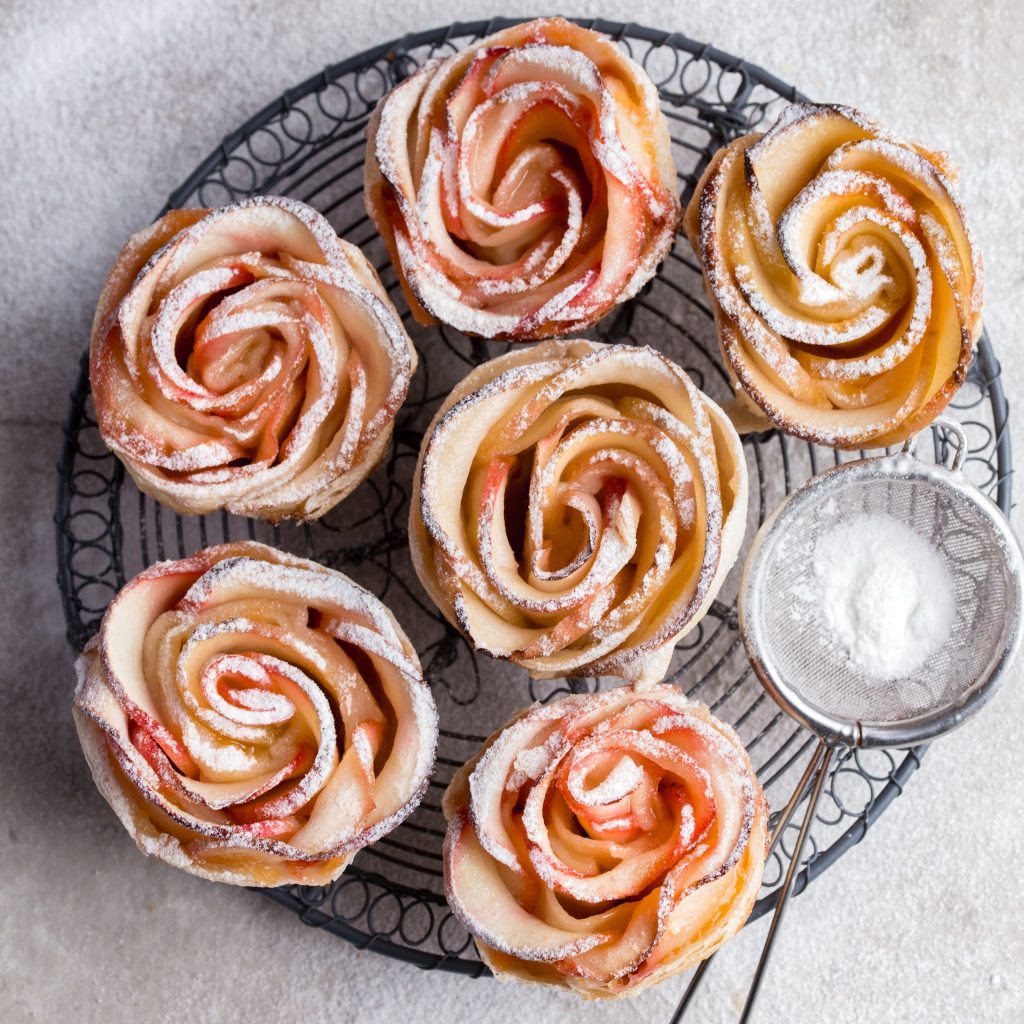 How Do I Bake With Weed?
If you happen to be new to the cannabis-culinary world, don't even worry. We've got all of the steps listed below so you can easily follow along.
In no time, if you follow the proper procedures and steps, plan and prep, you'll be a bona fide Canna-Chef.
Even if you've got a good thing going in your kitchen, and you're comfortable with all of the cannabis-lingo, this may serve as a refresher for you so read on!
Step #1: Decarb Your Cannabis
De-what? Decarb! You may have seen, tasted, or heard that you can just sprinkle your weed into any old dish and voila! It's an edible.
I'm here to tell you that that is not the way! (sorry,not sorry)
You have to decarb your weed first.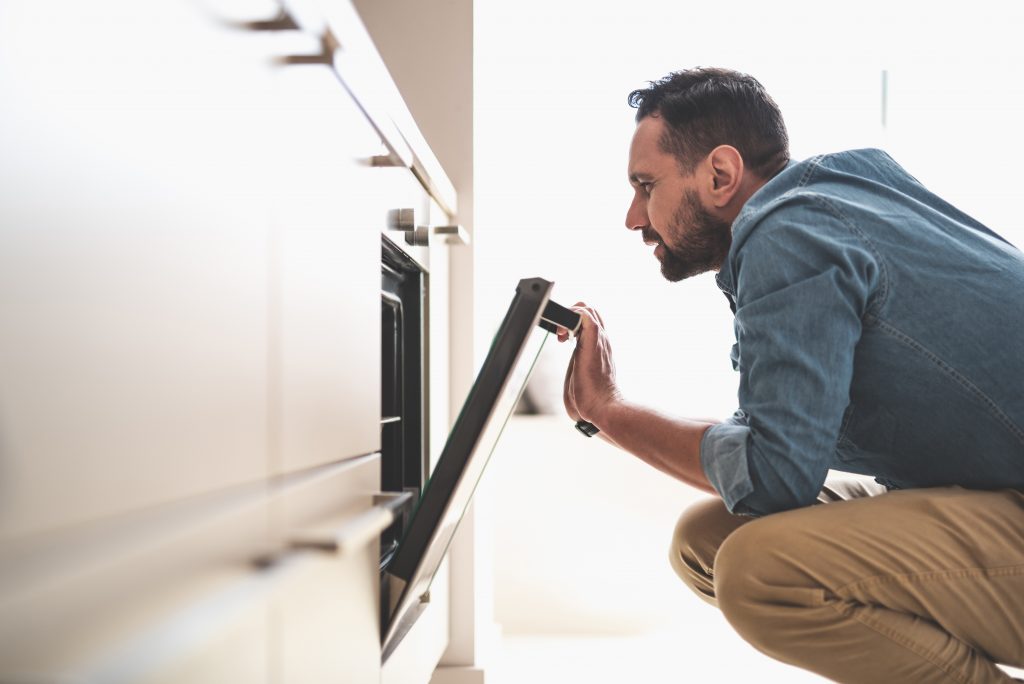 Decarbing or decarboxylation in it's simplist terms, means to heat your weed.
Basically, you'll be putting your ground up ganja on a cookie sheet, in the oven, for a certain amount of time (we recommend 45 minutes at 240 F).
Why? It's because cannabis in its raw state isn't psychoactive. It is the process of decarboxylation that converts and activates cannabinoids to elicit a high.
It's the most crucial step in the cooking process as a miss-step will result in a less potent, benign edible.
If you decide to skip it or forget it and you'll have a weak product that lacks the active cannabinoids.
Here's How to Decarb Weed:
---
Step #2: Make Cannabutter!
For this recipe, and many more weed edible recipes, you'll love having cannabutter on hand!
Cannabutter is when properly decarbed weed and velvety-smooth butter make love.
Here's how to make it: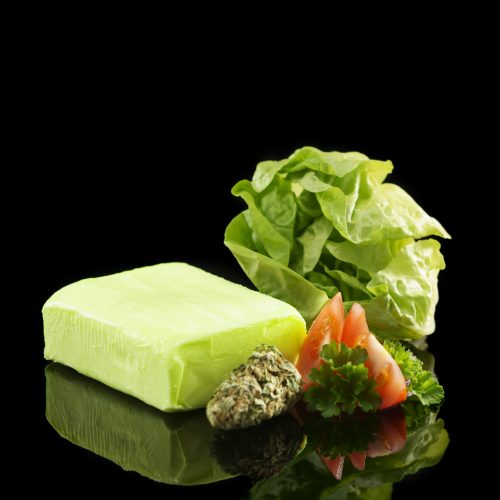 Servings: 1 Cup
Calories: 1628kcal
THC: 700-1400mg
Author: Steph Van De Ven
1/4 to 1/2

Ounce Cannabis

1

cup

Butter
Decarboxylate your weed by spreading your cannabis evenly on an oven tray And coat with aluminum foil.

Place in the oven on 240F/115C for 25 till 45 minutes, and then let it cool.

Grind your dry cannabis or chop it till fine.

Place the cannabis in a strong mason jar, add butter and (1 tsp of sunflower lecithin)(optional)

Place your closed jar in cold water and let it come to a boil, Boil for 2 to 3 hours.

Strain your butter through a cheesecloth.

Cool down

Now you can use the Cannabis Butter (Cannabutter)
If using a mason jar, be sure to start with cold water. Furthermore, it is imperative to let the water cool gradually so that your glass will not shatter.
The video guide might be slightly different than the blog recipe. The blog recipe is the most updated and accurate.
Calories: 1628kcal | Carbohydrates: 1g | Protein: 2g | Fat: 184g | Saturated Fat: 117g | Cholesterol: 488mg | Sodium: 1621mg | Potassium: 54mg | Sugar: 1g | Vitamin A: 5673IU | Calcium: 54mg
---
Step #3: Baked Apple Roses With Cannabis Recipe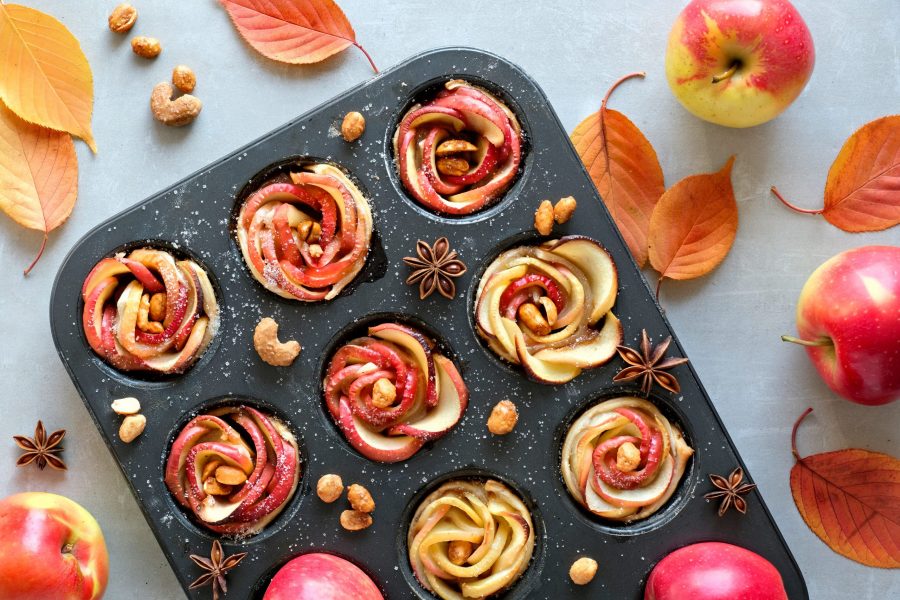 Servings: 4 people
Author: Steph Van De Ven
Cost: 20
1/2

pkg

Puff Pastry Sheets (1 sheet), thawed

2

Red Apples

Golden Delicious are great

2

tbsp

fresh lemon juice

1-2

tbsp

all-purpose flour

to sprinkle on your countertop

3-5

tbsp

ground cinnamon

3-5

tbsp

cannabutter

melted and used to brush overtop

2

tbsp

sugar

to sprinkle on top
Thaw the puff pastry at room temperature.

Grab your mixing bowl half filled with water and the lemon juice.

Cut the apples in paper-thin slices. Leave the peel so it will give the red color to your roses. Place the sliced apples in the bowl so that they won't change color.

Microwave the apples in the bowl for about 3-minutes. If they break, you'll need to soften them a little more until they don't. Just don't overcook them, they'll dry out. Set aside.

Unwrap the puff pastry over a clean and lightly floured counter. Using a rolling pin stretch the dough into a rectangular shape of about 12 x 9 inches.

Then, using a pizza roller, cut the dough in 6 strips, each about 2 x 9 inches.

Preheat the oven to 375 F and then drain the apples.

Melt your cannabutter and cinnamon in the microwave (or on the stove) for a few minutes tops. Set aside.

Arrange the apple slices on the dough, overlapping one another so that they are all in a row, and look almost like a fan. Make sure the top (skin side) of the slices sticks a little out of the strip.

Using your pastry brush, brush the apple parts that are inside the dough, not the tips.

Fold up the bottom of the dough, like you are tucking them into bed.

Starting from the left end of the dough, gently tuck in the apples while you roll to the right. Make sure all apples are in place, and don't move.

Seal the edges with your fingers so everything is tucked in nicely. No gaps in the dough.

Do the same as above for the remaining five roses.

Note: you may need more cannabutter & cinnamon mix. Repeat in microwave as above.

Spray each muffin tin with cooking spray/non stick spray. If it's a silicone muffin tray, you don't need to, but it wouldn't hurt just in case.

Then, sprinkle any cinnamon or sugar you have on top of each rose.

Bake at 375 F for about 40-45 minutes. Make sure the pastry is cooked all the way through!

Eat while warm and enjoy!